Last week Greencarrier Liner Agency Estonia received the entrepreneurial award within the category Transport and Logistics at the Estonian Business Award gala.  The award is arranged by Enterprise Estonia, Estonian Chamber of Commerce and Industry, and Estonian Employers' Confederation.
The competition aims to find the best company among large, small and medium-sized as well as micro companies in Estonia within a number of categories. The ranking is done in the following areas: retail, wholesale, industry and energy, food industry, construction, communications/IT-services, transport and logistics, architecture and real estate and business services. The competition has the highest recognition of entrepreneurship organisations for companies in Estonia.
We give our best congratulations to Julia Rahula, MD of Greencarrier Liner Agency Estonia, and her team!
Below are all the winners in the different categories.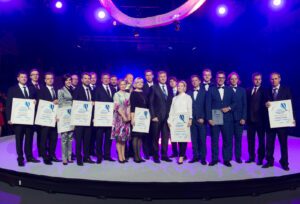 More information about the award:
The history of the Estonian Companies' Competitiveness Ranking dates back to the year 2003 when this ranking was first drawn up by the initiative of the Estonian Chamber of Commerce and Industry. Since the year 2006, the ranking is organised in cooperation with the Estonian Institute of Economic Research who helps with the technical calculations and to draw up the rankings. This has also been made in cooperation with the Lausanne International Institute for Management Development.
/The Blogging crew