Understanding the environmental impact of every decision throughout your entire supply chain can be a real challenge. But it doesn't always have to be. Making more sustainable choices is much easier when the facts are presented to you in a clear and relatable way. In this article, I'd like to introduce you to our Green Solutions and their many benefits.
Transportation is a core element of our society and we must continue improving it together
There is a lot of pressure on companies, in all sectors, to reduce their environmental impact. Not least when it comes to transportation and logistics. Some are even cutting back their overall flow of goods by rethinking how and where their products are manufactured. But at the end of the day, transportation is the foundation of any economy and one of the core elements of our society.
Which is also why, as a society, we need to focus on identifying and adopting new, more sustainable methods of transportation. It is also why sectors that are heavily dependent on transportation need to continue re-evaluating their options and make even more sustainable choices.
Look at your logistics options and consider the impact of each choice
Making sustainable choices begins with knowledge. You have to understand your own needs, market constraints and timelines. Then look at the options available to you and consider how each individual choice might affect your business and how it might impact the environment. In other words: identify, prioritise and constantly reassess. For example, by:
Optimising       Avoid unnecessary transportation, i.e. increase load factors, use appropriate modes for each stage and further utilise logistical planning.
Modal shifts    Shift to more environmentally smart transportation modes and new multimodal combinations.
Improving        Continue to improve and develop transportation technology together. Joint efforts and collaborations lead to innovations like biofuel, electrification and more efficient modes of transport, which ultimately reduces our combined environmental impact and prevents climate change.
Effortless environmental optimisation with Green Solutions
Green Solutions is all about making it easier for our customers to be more sustainable. By opening up our archives and sharing our extensive knowledge on the subject, our customers can now easily identify which logistics options are more sustainable, which are most cost effective and which are fastest. As well as how each parameter would affect the others.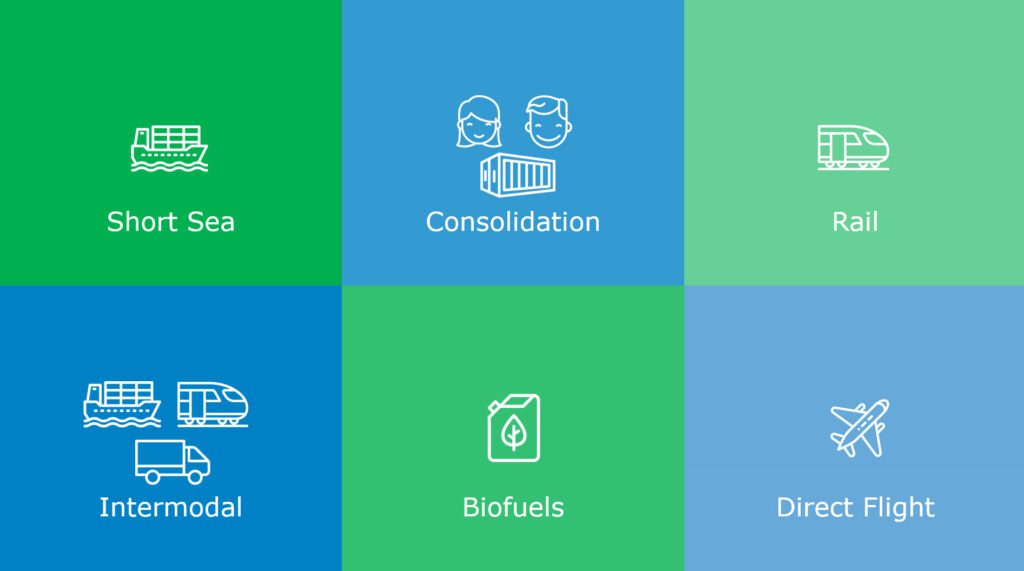 Logistics providers and freight forwarders can help companies make more sustainable choices
The role of freight forwarders has changed drastically over the years. Originally, companies would consult their logistics provider for all of their transportation needs. Then the internet came along, and larger organisations were suddenly able to coordinate many of the simpler consignments themselves.
Now that climate change has begun complicating things, however, more and more companies are once again looking to logistics providers to help them.
Providing a wide range of Green Solutions for more than 20 years
At Greencarrier Freight Services, we've spent more than 20 years helping retailers, grocery chains, manufacturers and so many more organisations, across all industries and on all continents, find more sustainable and more economical ways of transporting their goods. For example:
We hope that having our full range of transportation options presented to you in a simple, digestible and relatable way will help to make your environmental optimisation work effortless in future – for you and your entire organisation.
If you're interested in reducing your environmental impact and want help making more sustainable choices, we'd love to hear from you.