At Greencarrier we always like a challenge, and we approach them with our mindset "Yes, it's possible!". This mindset affects everything we do, not the least our dedicated work for a sustainable future – which we refer to as the Greencarrier Spirit.
Greencarrier Spirit is our way of approaching CSR (Corporate Social Responsibility) and we encourage all our employees to get involved in our ambitions. We want our employees' commitment to influence what activities and initiatives we get involved in. That's why we've started the Greencarrier Spirit Fund.
Each year, we set aside one percent of our profit to this fund and all of our 800 employees are welcome to apply for money to start their own local or global initiatives. By doing it this way, the Greencarrier Spirit really reflects the passion of our employees.
One way of getting involved is to challenge yourself and others to contribute to good causes by warming up and raising money in different charity races. It's a good way to combine our core values – humour & joy, commitment and involvement – with our wish to give back to the society.
Here are some recent achievements by our employees, where they have personally engaged and broken a sweat for good causes.
Hope Run in Lithuania
Over 30 employees from our offices in Lithuania ran in the Hope Run in May in the streets of Klaipėda, competing in different courses from 2,9 km to 21 km. All funds collected from participants are donated St. Francis Oncology Center. It is for a serious cause but still a very joyful event, and everybody crossed the finish line.  

Barncancertrampet in Helsingborg
Employees from our office in Helsingborg, Sweden, rode in Barncancertrampet. It is a biking event that serves to raise money to the Swedish Childhood Cancer Fund.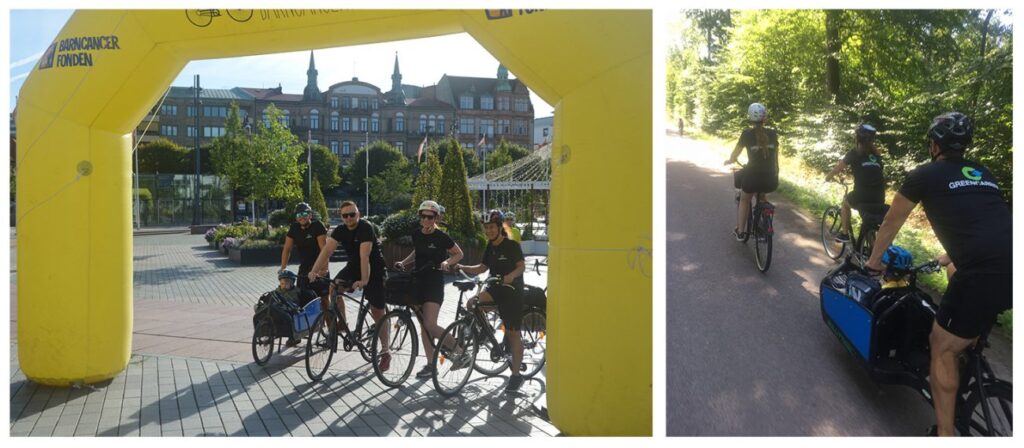 Estonian Rat Race
Employees from our office in Estonia participated in the Rat Race, which aims to bring the "office rats" out into the fresh air and through humour and joy promote charity and an active lifestyle. The participation fees is given to underprivileged children in association with the Estonian Union of Large Families to support their education and extra-curricular activities.

TIP Charity Race
Chris Hunt from our office in UK rode in TIP's charity bike race, where the aim was for 50 riders to raise a minimum of £50,000 for the Donna Louise Trust who provide care for terminally ill children and their families. The target was to complete a 3 day cycle challenge starting in Barcelona and finishing in Valencia, covering more than 400 kilometres, and participants was a mix of TIP employees, customers and partners from the UK and Irish transport industries. The total amount raised was more than £60,000.

Stafesten in Gothenburg
Employees from our office in Gothenburg, Sweden, ran in Stafesten, which is a relay race arranged each year by Unicef. Funds raised during the event is used in their work to create a better world for children. A great and fun way to raise money and at the same time challenge ourselves and other teams in a competition.

Greencarrier Spirit guided by our core values
Our main asset is our dedicated employees! We feel proud to present these examples of how our employees have fun together, challenge themselves and contribute to the society.
If you're interested in knowing more about the Greencarrier Spirit and what we do within sustainability, please read our Sustainability Report for 2017 and check out some of our other CSR-projects. And remember to keep biking, running, smiling and getting involved.
Yes, it's possible!