Did you know that the Baltic States' climatic and geological conditions are favourable for the processes and creation of peat moss? Every year millions of tons of Baltic peat moss is exported to over one hundred countries around the world. After many years of experience in transporting peat moss, we have gathered a great deal of knowledge about the product, and in particular, how to transport it in the best possible way.
The characteristics of peat moss
Peat moss is the decomposed, dead remains of mosses, and a source of organic matter. It stimulates soil microbial activity by contributing microorganisms beneficial for plant growth. It is naturally an acid soil and has an excellent water holding capacity, which makes it a perfect growing media. It is virtually free from weed seeds and contaminants.
The use of peat moss
Peat moss plays an important role in horticulture, and is also widely used in agriculture, floriculture and many other industries. Due to its high content of organic matters and natural humic acid it serves well as soil improver, plant growth stimulator, fertilizer improver and as additive in fertilizers.
Peat moss is also used as oil drilling fluid stabilizer, cement and ceramic additive, wastewater treatment agent and cathodal plate additive for accumulator. It is frequently used as an alternative source of energy for heating and electricity production. Peat is also used in whiskey breweries. Braided grains are smoked over burning peat, which gives the whiskey an unbelievably good flavor and taste.
The peat moss industry in the Baltic states
Peat moss grows most commonly in bogs. The moss grows on top of the bog, and peat is produced underneath. Cool climates are usually best, which is why Canada is one of the world's top producers followed by many countries in Scandinavia and Northern Europe.
The peat moss industry in the Baltic states is very well developed, as ten percent of Latvian territory is occupied by bogs and swamps. According to the International Peat Technology Symposium 2014 that was held in Latvia recently, peat moss has been harvested and extracted from approximately four percent of all Latvian bogs. In 2014 the total resource of Latvian peat bogs was 1,5 billion tons.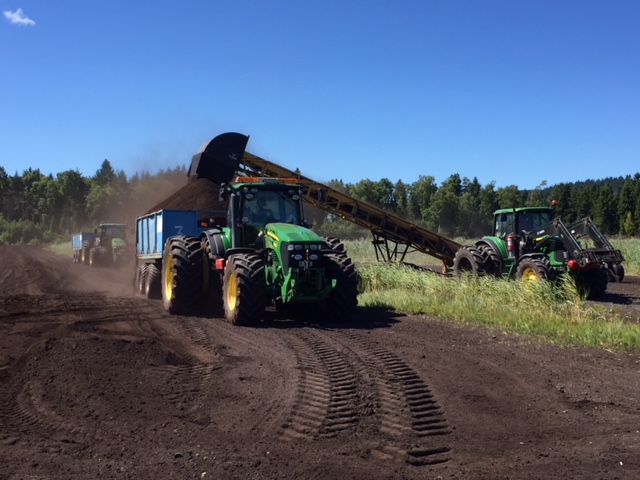 Most of the Latvian bogs are owned by the state, and some of them, by private companies. Private companies harvest the peat and produce peat substrate for different horticulture needs. Peat substrate is one of the main export products of the Baltic states with almost the same situation in Estonia and Lithuania.
The local demand of peat moss and peat substrates is about five percent of all harvested peat, while the remaining 95 percent is exported all over the world. In total the Baltic states export peat moss to more than one hundred countries.
Things to consider when handling the logistics and transportation of peat moss
As peat moss is an organic product, there are a few important things to take into account when transporting the product to ensure it maintains the same high quality throughout the entire logistics and transport process.
Peat moss absorbs a lot of water and therefore becomes very heavy. In addition, the peat moss is usually sold on a volume basis in bales (packed in cubit feet or yards). Baled peat is compressed when packaged so that it actually contains up to two times its volume when loosened. This means that the peat is a very compact and heavy product to transport. The carrier should be aware of this and be able to offer the correct mode of transport, preferably sea freight or shipping by truck or rail – never air, as peat moss is very low valuable cargo.
Global transport solutions for the peat moss industry
I hope you found this article interesting, and perhaps you learned a new thing or two. If you have any thoughts on the subject, please let me know in the comment field below. I'm always interested in hearing other people out!
And if your target group is professional growers, landscape specialists, farmers, retailers and custom growing media manufacturers, you should check out our Greencarrier website. We help you transport your peat products to more than one hundred countries. We transport your goods by truck (often within Europe and Scandinavia) or by sea, using container ships (often to the Far East countries, Russia, Africa and the Mediterranean countries). We can offer pure ocean freight or door-to-door service – the decision is yours!
Also, visit us on Facebook for more news and updates!
/Gatis Dumbris, Greencarrier Liner Agency